In the dynamic world of the paper industry, one event stands out as a beacon of innovation and opportunity—Paperex 2023. This event, the 16th International Exhibition & Conference on Pulp, Paper & Allied Industries, is scheduled from December 6 to December 9, 2023, at the India Expo Centre in Greater Noida, Delhi-NCR, India. In this blog post, we will explore the highlights of Paperex 2023 and shed light on the pivotal role played by Shine and Glow Group, their participation, and their contribution to the event.
Paperex 2023: Where the Paper Industry Unites
Paperex 2023 is much more than an event; it is an international congregation of experts, innovators, and enthusiasts in the paper industry. The event has developed a reputation for being the prime platform for connecting professionals and stakeholders in the pulp, paper, and allied industries.
Unpacking Paperex 2023:
Dates and Venue: Mark your calendars from December 6 to December 9, 2023, as the event unfolds at the India Expo Centre in Greater Noida, Delhi-NCR. This location has been thoughtfully chosen for its world-class facilities and international accessibility.
A Comprehensive Showcase: Paperex is a comprehensive business platform that offers attendees a unique opportunity to explore the latest technologies, machinery, and raw materials essential for paper and board manufacturing. It encompasses a wide range of offerings, from complete paper mill machinery to automation and instrumentation, bearings and accessories, and much more.
Diverse Participants: The event boasts a diverse and inclusive guest list. It brings together not only paper and board manufacturers but also paper traders, printers, publishers, converters, and paper packaging companies. Designers for corrugated boxes and investors and promoters all gather to exchange ideas and seize new business opportunities.
Global Appeal: One of the most remarkable aspects of Paperex is its growing international interest. The event consistently draws participants and visitors from across the globe, illustrating its global significance. It's a testament to Paperex's capacity to foster worldwide connections and innovations.
Collocated Events: Alongside the core Paperex exhibition, several collocated events are held concurrently. These include "WORLD OF PAPER," focusing on Paper, Printing, Packaging, and Publishing industries, "TISSUEEX," dedicated to Tissue Products, Machinery, and Technology, and "CORRUGEX," a concurrent show on Corrugated Boxes, Machinery, Technology, and Allied Industries.
Shine and Glow Group at Paperex 2023: Bridging the Paper Gap
One of the most critical participants at Paperex 2023 is the Shine and Glow Group. Their presence at Hall No. 15A, Booth No. V98C, is an embodiment of their role as importers of paper stocks and lots. Their crucial function in the industry is to bridge the gap between paper manufacturers and buyers, ensuring the seamless flow of materials within the paper supply chain.
Quality Assurance by Shine and Glow Group
The Shine and Glow Group's commitment to quality and innovation aligns perfectly with Paperex's mission to showcase the best and most cutting-edge products and services. As part of the paper supply chain, the group plays an essential role in maintaining the industry's foundation and ensuring that it receives top-notch materials.
Collaboration and Growth
The presence of the Shine and Glow Group at Paperex 2023 is a testament to the collaborative spirit of the paper industry. The event provides a platform where various stakeholders, from manufacturers to importers, can engage, share ideas, and explore opportunities for mutual growth. It underlines the industry's unity in working towards a common goal.
Shine and Glow Group: International Leaders in Paper Scrap, Stocklot, and Paper Imports
While Paperex is a monumental event in the paper industry, the Shine and Glow Group's significance stretches far beyond this event. They are international leaders in the paper industry, with a primary focus on paper scrap, stocklot management, and paper imports.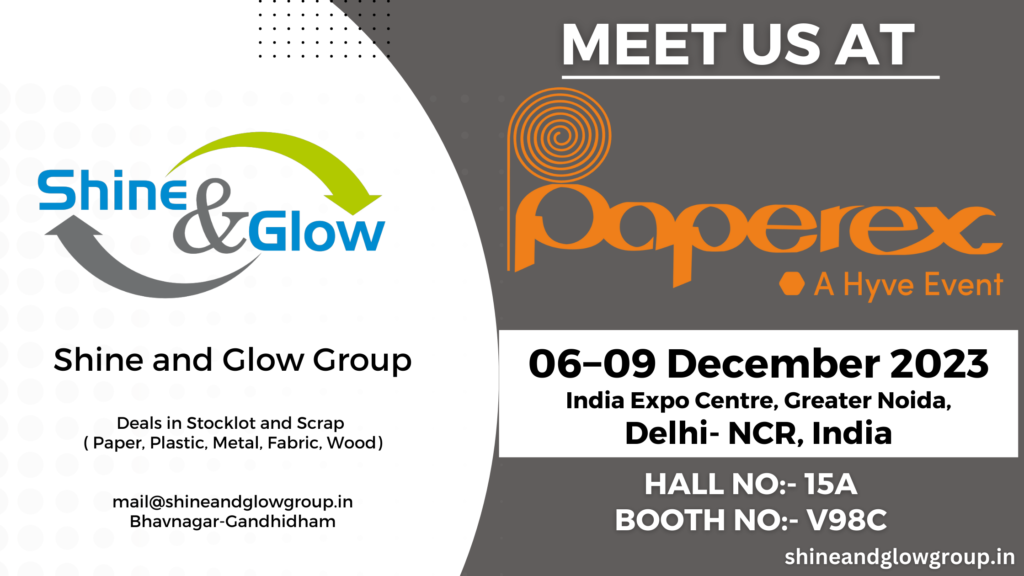 Key Focus Areas:
1. Paper Scrap
The Shine and Glow Group excels in managing paper scrap, sourcing, processing, and distributing these materials. Their commitment to sustainability and responsible sourcing makes them a vital contributor to the circular economy. By efficiently handling paper scrap, they play a key role in reducing waste and conserving resources.
2. Stocklot Management
Another area of expertise for the Shine and Glow Group is stocklot management. Stocklots are materials that are often surplus or overstocked and need to be efficiently managed. The group is adept at managing these resources, ensuring they find their way into production and circulation, minimizing wastage, and reducing the industry's environmental footprint.
3. Paper Imports
As importers of paper, the Shine and Glow Group plays a crucial role in ensuring a steady and reliable supply of raw materials to the paper industry. Their international reach allows them to source high-quality paper products and materials from around the world, contributing to the industry's efficiency and quality.
International Reach:
The Shine and Glow Group's international presence is a testament to their dedication to meeting the paper industry's global demands. They have established themselves as reliable partners in the supply chain, with a network that spans the globe. This international reach ensures a seamless flow of materials and products, strengthening the industry's foundation and maintaining its competitive edge.
Sustainability and Responsibility:
The Shine and Glow Group's commitment to sustainability is a driving force in their operations. They adhere to responsible sourcing practices and prioritize eco-friendly solutions. Their efforts contribute to a greener, more sustainable paper industry, aligning with global environmental goals and industry best practices.
Innovation and Quality:
In an industry that thrives on innovation, the Shine and Glow Group continually seeks new ways to enhance their services. They are committed to delivering high-quality materials and products to the paper industry. Their dedication to quality ensures that the industry receives the best materials to produce exceptional paper products.
In conclusion, Paperex 2023 and the Shine and Glow Group are two pillars of the paper industry. Paperex is the grand stage where the industry congregates, innovates, and collaborates, while the Shine and Glow Group is a driving force behind the scenes, ensuring the seamless flow of materials and promoting sustainability and quality. Together, they exemplify the industry's resilience, innovation, and commitment to a brighter, more sustainable future for the world of paper and allied industries. Whether you're attending Paperex 2023 or simply connected to the paper industry, these are two names you won't want to overlook. #Paperex2023 #ShineandGlowGroup #PaperIndustry #Innovation #Sustainability