Plastivision India, the country's most eagerly awaited plastic exhibition, is gearing up to make history with its 2023 edition. In this blog, we will provide a comprehensive overview of Plastivision 2023, highlighting the crucial role of the All India Plastic Manufacturer's Association (AIPMA), and introducing you to the Shine and Glow Group, a significant player in the plastic industry.
Plastivision 2023: Dates and Venue
Plastivision 2023 will be held at the Bombay Exhibition Center (BEC) in Mumbai, the bustling financial capital of India. Here are the key details:
Dates: Plastivision 2023 is scheduled to take place from 07Dec 23 -11 Dec 23
Venue: Bombay Exhibition Center (BEC), Mumbai
Organizer: The All India Plastic Manufacturer's Association (AIPMA)
Keywords: Plastivision 2023 dates, plastic exhibition, biggest exhibition in India.
Industry 4.0 – The Future of Manufacturing
Plastivision 2023 is poised to showcase the cutting-edge theme of Industry 4.0, focusing on the integration of wireless connectivity and sensors into manufacturing processes. This concept, often referred to as "smart factories," will be at the forefront of the exhibition, offering attendees a glimpse into the future of manufacturing.
Circular Economy: Sustainable Practices
Plastic sustainability is a pressing concern, and Plastivision 2023 is dedicated to the promotion of the circular economy. Attendees will learn about and engage with sustainable practices that involve reuse, sharing, repair, refurbishment, remanufacturing, and recycling. These efforts contribute to reducing waste and minimizing the industry's environmental impact.
SUP Remedy: Innovative Product Manufacturing
Intriguingly, Plastivision 2023 will feature an exciting concept – SUP Remedy. Attendees will have the opportunity to explore new products that can be manufactured using existing machinery. This innovation promises to transform the industry by enabling the production of a wider array of plastic products.
International Exhibitors: A Global Perspective
With participation from over 40 countries, Plastivision 2023 is genuinely international. The exhibition will serve as a melting pot of manufacturing expertise, bringing together professionals and companies from around the world.
Global Technology: Efficient and High-Volume Manufacturing
The event will be a showcase for advanced manufacturing methods that leverage cutting-edge technology to enhance efficiency and enable high-volume production. It's an insight into the future of the plastic industry, illustrating how technology can drive progress.
Specialized Pavilions: A Diverse Experience
Plastivision 2023 is set to provide attendees with a diverse and enriching experience. Specialized pavilions, including the Recycling Pavilion, Consultant Clinic, Job & Career Fair, and Medical Pavilion, will cater to various facets of the industry and provide a well-rounded experience for visitors.
The Role of AIPMA: A Pillar of the Industry
The All India Plastic Manufacturer's Association (AIPMA), a non-profit organization serving the plastic industry since 1945, plays a pivotal role in representing and advancing the industry's interests in India. Plastivision 2023 is a testament to their dedication to fostering the industry's growth.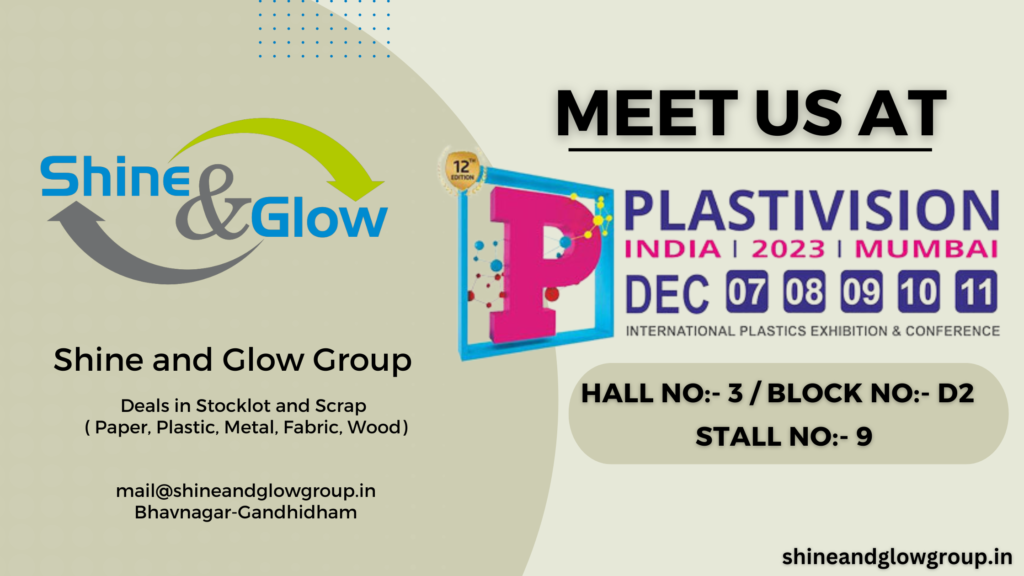 Shine and Glow Group: A Leading Player
The Shine and Glow Group, established in 2008, is a prominent importer, indentor, and trader in the plastic industry. The group deals in various types of plastic materials, including regrind, reprocessed plastics, and raw materials. Their product range spans HDPE, LDPE, PVC, acrylic, PC, and more.
Plastivision 2023 promises to be an extraordinary event that will define the future of the plastic industry in India. With a focus on Industry 4.0, sustainability, innovation, and international collaboration, it's an event not to be missed. The All India Plastic Manufacturer's Association and industry leaders like the Shine and Glow Group will play pivotal roles in shaping the event's success.
As Plastivision 2023 brings buyers and sellers together, it's poised to break all records and leave a lasting impact on the plastic industry in India. Don't miss the chance to be part of this monumental event, held at the Bombay Exhibition Center in the heart of Mumbai, where the future of the industry will unfold before your eyes.