Sticker Roll Endless Creative Possibilities at Your Fingertips
Sticker roll are an excellent choice for individuals seeking a convenient and cost-effective way to enhance their surroundings. Whether you're looking to revamp your walls, floors, or various surfaces, sticker rolls provide an array of options. In this blog, we will delve into the world of sticker rolls, including vinyl, paper, and printed options. Discover how sticker rolls can effortlessly transform your space, and explore the purchasing possibilities for your specific needs.
HS Code
Vinyl Sticker Rolls Hs code
Paper sticker rolls Hs code
Types of Sticker Roll:
Vinyl sticker rolls are durable and water-resistant, making them ideal for both indoor and outdoor applications. They come in a variety of finishes, including glossy, matte, and transparent. Vinyl sticker rolls are also strong adhesive, ensuring long-lasting adherence to surfaces.
Paper sticker rolls are a more affordable option than vinyl sticker rolls. They are ideal for indoor applications, such as scrapbooking, labeling, and craft projects. Paper sticker rolls are user-friendly and compatible with home printers, making them easy to customize.
Which type of sticker roll is right for you depends on your needs and budget. If you need a durable and water-resistant sticker that can be used both indoors and outdoors, then vinyl sticker rolls are a good option. If you are looking for a more affordable option for indoor use, then paper sticker rolls are a good choice.
| Feature | Vinyl Sticker Rolls | Paper Sticker Rolls |
| --- | --- | --- |
| Durability | Exceptional | Not as resilient |
| Resistance to water | Yes | No |
| Finishes | Glossy, matte, transparent | Glossy, matte |
| Adhesive properties | Strong | Weaker |
| Applications | Indoor and outdoor | Indoor |
| Cost | More expensive | Less expensive |
| Compatibility with home printers | Yes | Yes |
| Customization | Convenient | Easy |
| Aesthetic | Wide range of effects | Desired aesthetic |
| View Price | Vinyl Sticker Rolls Price | Paper Sticker Roll Price |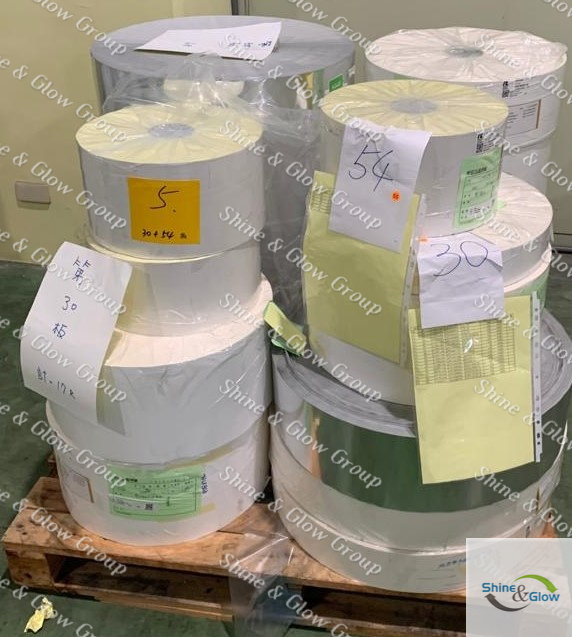 Benefits of Sticker Rolls:
1. Effortless Application:
Sticker rolls simplify the decoration process, offering easy application for individuals of all skill levels. With pre-cut designs and adhesive backing, you can quickly transform your space without the need for specialized tools or expertise.
2. Endless Versatility:
Sticker rolls provide unparalleled versatility in design and application. Whether you're interested in creating custom wall decals, floor stickers, or personalized labels, sticker rolls can be easily cut and shaped to match your unique requirements.
3. Customizability:
Embrace your creativity by printing your own designs or artwork on sticker rolls. This level of customization allows you to express your personal style and create one-of-a-kind stickers. Additionally, many suppliers offer bulk printing services, making it easy to obtain large quantities of customized sticker rolls for promotional or branding purposes.
Buying Sticker Roll:
| Option | Description |
| --- | --- |
| Vinyl Sticker Rolls Wholesale | Purchase a large number of vinyl sticker rolls at a competitive price. |
| Buying Paper Sticker Rolls Online | Browse through a wide selection of paper sticker rolls and have them delivered right to your doorstep. |
| Vinyl Sticker Roll Pricing | Consider factors such as size, quantity, and customization options when assessing prices. |
Conclusion:
Sticker roll offer a world of creative possibilities for transforming your space. Whether you opt for vinyl or paper sticker rolls, the versatility and convenience they provide make them an excellent choice for DIY enthusiasts, artists, and businesses alike. With various purchasing options available, including wholesale deals and online shopping, you can easily obtain sticker rolls that fit your budget and requirements. Let your imagination soar as you explore the endless opportunities sticker rolls provide for personalizing and beautifying your surroundings.
FAQs:
Q1: Can I remove sticker rolls without damaging the surface?
Ans: Yes, most sticker rolls are designed to be removable. However, it's essential to follow the instructions provided by the manufacturer to ensure proper removal techniques.
Q2: Are sticker rolls suitable for outdoor use?
Ans: Vinyl sticker rolls are highly durable and weather-resistant, making them suitable for outdoor applications. Ensure you choose vinyl stickers specifically designed for outdoor use.
Q3: Can I print my own designs on sticker rolls?
Ans: Absolutely! Both vinyl and paper sticker rolls are compatible with various printing methods, including home printers. You can easily transfer your designs onto the sticker rolls for a personalized touch.
Q4: Are sticker rolls reusable?
Ans: In most cases, sticker rolls are not reusable once they have been applied. However, they can be removed without leaving residue or damage on the surface, allowing for replacement with new stickers.
Sticker Paper Stocklot: A Great Option for Bulk Purchases :
Sticker paper, or self-adhesive paper, is a popular material for creating custom stickers and labels. With its wide range of applications, sticker paper has become a favorite among crafters, and businesses….. Read more